Change Facilitation Exercises in General
Reflection exercises, because of the freedom of expression they encourage, can be particularly useful in both change-planning and team-building meetings. They typically all encourage participative teamwork and consensus, and most assist with change-program planning. They can be a powerful tool for:
getting people thinking fast about their situation
getting people to produce their "front of mind" thinking about the situation, as opposed to having them respond to structured questions in an analytical way
enabling people to exchange with colleagues about what's going on
encouraging people to think broadly and conceptually, to see the wood for the trees
to get some delicate subjects on the table in a non-threatening way
providing groups with a vehicle for broad discussion, artistic license, and a way to get their message across that is less threatening than more structured or formal presentations
For all the above reasons, reflection exercises are powerful facilitation tools, and can help guarantee that nothing important will be overlooked because it's unmentionable or not politically correct.
Since reflection exercises are intended to produce valuable input to planning, team-building and other processes, the small workgroup and plenary session output should generally be captured in written (on a facilitator handout or on flip chart) or electronic (on a USB Key or laptop file) form so it can be kept and analyzed or referred to as the process progresses.
Make sure that as a facilitator you feel you have the skills, experience and necessary level of neutrality to lead the exercise you chose. If you are in any doubt consult an experienced professional.
Exercises in Plenary or Small Groups
The advantage of working in plenary session (when the entire group is in the room) is that everyone participates in exactly the same discussion and, in some circumstances, this can bring the group to a conclusion fairly rapidly. The disadvantage of working solely in plenary can be that:
for any group of more than four or five people, it's difficult for the facilitator to ensure that every participant says what's on his or her mind
in the event of disagreement, the number of participants can lead to a lengthy debate, with some participants being marginalized
on occasions, discussions in plenary are can be more superficial than in small groups where every participant will likely want to and be able to participate
the facilitator must deal with a large number of individual inputs, as opposed to dealing with one consensus input per small discussion group.
For these reasons it is often best for an exercise to be done first in small workgroups and the results then compared and discussed in a plenary session.
Small workgroups (2 to 7 people) should typically be made up either of people of similar background and experience or a mixed cross-section of the participants.
Groups that mix people from varying backgrounds will generally provide a forum for a broad exchange of ideas and viewpoints: the product of each group is likely to resemble that of the others.
Groups of people with similar backgrounds, for example old versus young, marketing versus operations, long-service versus short-service, etc. will generally provide differences of vision from group to group that can be contrasted and resolved in a plenary discussion session. In these cases, it's important to spend time in plenary session to make sure that everyone's perceptions are fully explored and that all can share a common vision of where we are and where we have to go.
In many cases it's desirable for the facilitator to pre-select group members, assigning each person to a pre-planned group.
An alternative is to have groups of two or three work together without leaving the plenary room table. This can be a quick way of doing an exercise while leading to good discussion and reducing the number of inputs to the facilitator.
Caution should be exercised not to create groups of one, nor any group small enough to feel threatened by those in authority or by others. It is important that reflection exercises produce rich input for group discussion, and not accidentally damage the positions or careers of any participant: it's the facilitator's responsibility to encourage consensus and not division, and it is usually better to be safe than sorry.
The Top Dozen L&C Change Facilitation Exercises
These exercises are among those that have proved most popular over the years to L&C change-program facilitators. They vary in their uses, and these are broadly described below: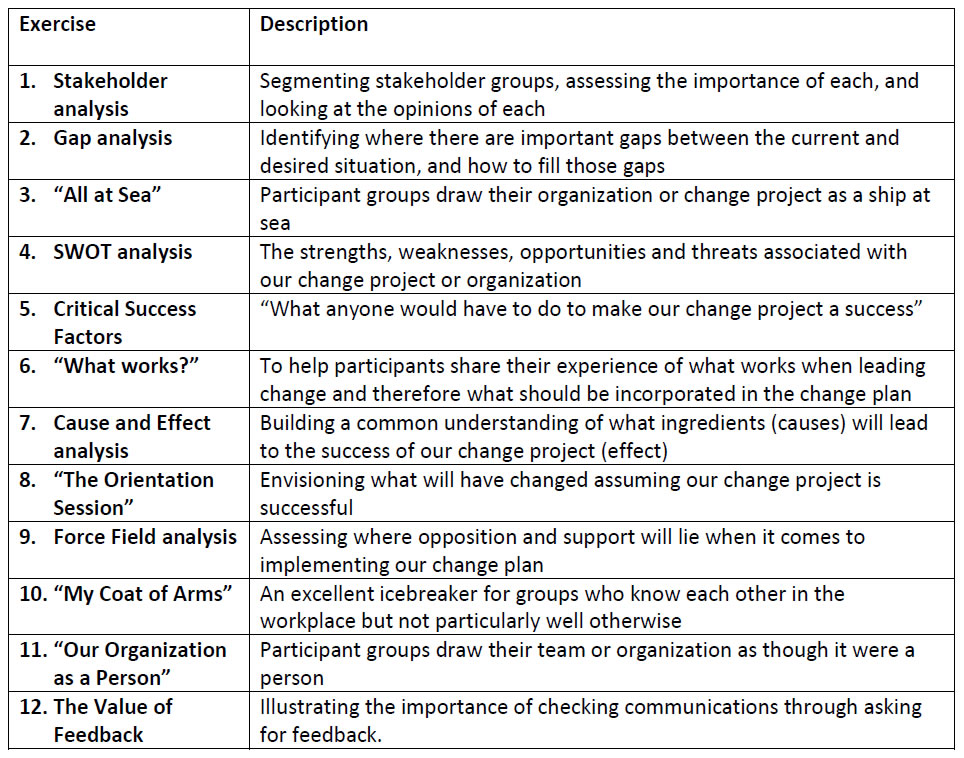 More specific suggestions as to how and when to use each exercise appear in each specific exercise file.
The exercises are set up in Word to permit adaptation to specific circumstances and groups. Many of them can also be used outside a meeting context, for example to gather input from participants on stakeholders, critical success factors etc. for analysis and subsequent discussion
Please note that this material is the copyright of L&C Leading Change Advisors Inc and that is a trademark of L&C Leading Change Advisors Inc. It can be used under license